Roof colours as below. We match to all the popular colours. If you cant find the colour below then we can still make it for you. Some colours will incur a tint charge.
Accurate colour selection is difficult from a screen. Please click 
here 
to order either a brush out or test pot of any of our Paint Tech roof colour.
See below the chart for a brief description of each colour to assist in colour selection. We are happy to send out test pots so you can be sure of your selection.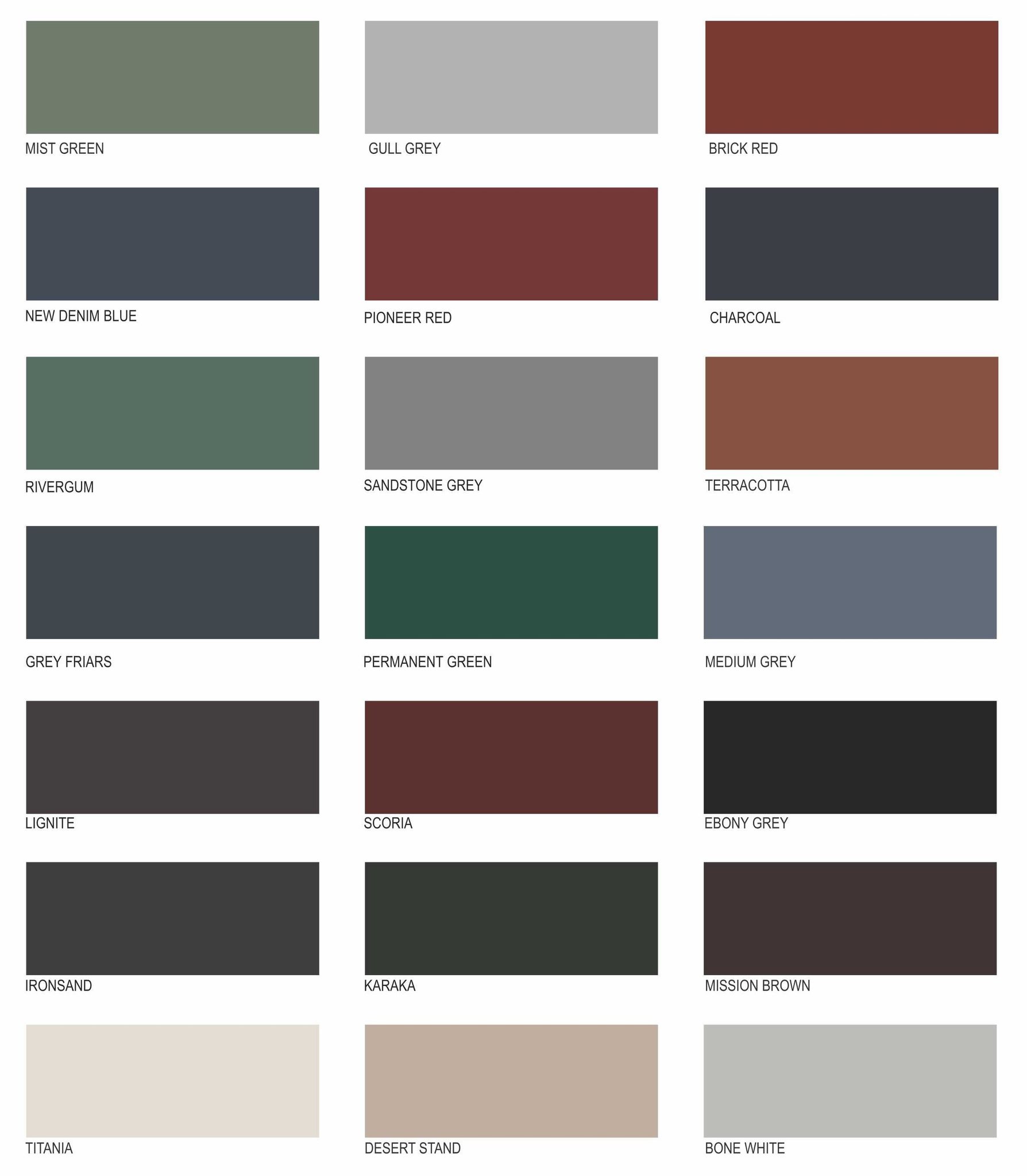 Colour Description:
Brick Red is a traditional red. Slightly lighter than Pioneer Red.
Bone White.
Charcoal. This is a dark grey with a slight undertone of blue. No where near as blue as New Denim Blue. Very similar to Grey Friars.
Desert Sand. With a natural warmth, this colour can serve as a backdrop to splashes of colour of all persuasions. Any hue found in a coffee cup, or hot chocolate mug will also blend with Desert Sand. It works well as a conduit between dark and light colours, making it perfect for everything from roofs to cladding and joinery.
Ebony Grey/Black. This is black.
Grey Friars is a dark grey. Lighter would be medium grey, followed by Sandstone Grey, then Gull Grey.
Gull Grey is the lightest of the greys. the next dark is Sandstone Grey.
Ironsand. A dark grey that has an undertone of brown.
Karaka is a deep, rainforest green.
Lignite is a chocolatey brown. looks almost like a slab of dairy milk.
Mission Brown. A rich brown designed to match the 70's joinery.
Mist Green a soft and slightly muted version of the natural greens found in the New Zealand landscape. 
New Denim Blue is a grey but with a definite blue look. 
Permanent Green is fresh bright dark green.
Pioneer Red is a classic kiwi red.
Sandstone Grey is light grey. Very popular for garage floors.
Scoria is a rich red-brown. 
Titania is a warm pale colour.
Terracotta is just like you would imagine a terracotta pot is.